CASHMERE & FOX FUR HAT WITH POM POM - GREY
Regular price
$195.00
Sale price
$195.00
Unit price
per
Sale
Sold out
ONLY 0 LEFT
Soft and luxurious,  made from soft cashmere this is the perfect accessory for the winter cold days. Feel the authentic fox fur touch and fall in love with this women's knit cahsmere hat. 

One size fits all

Composition: 100% cashmere

Fur: 100% Natural Fox Fur
Fur origin: Finland
Care Guide

- Professional fur cleaning only.

- Do not wash.

- Do not iron.
Shipping & Returns

- Shipping time 3-7 business days (depending on your choice).

- P.O. BOX NOT ACCEPTED AS SHIPPING ADDRESS.

- Unfortunaterly, at this time, international orders are not accepted.

- Returns accepted within 14 days after delivery.

- Our customer service will be glad to assist with any questions.

- Please contact us at 502-425-2121 or email info@yfur.com.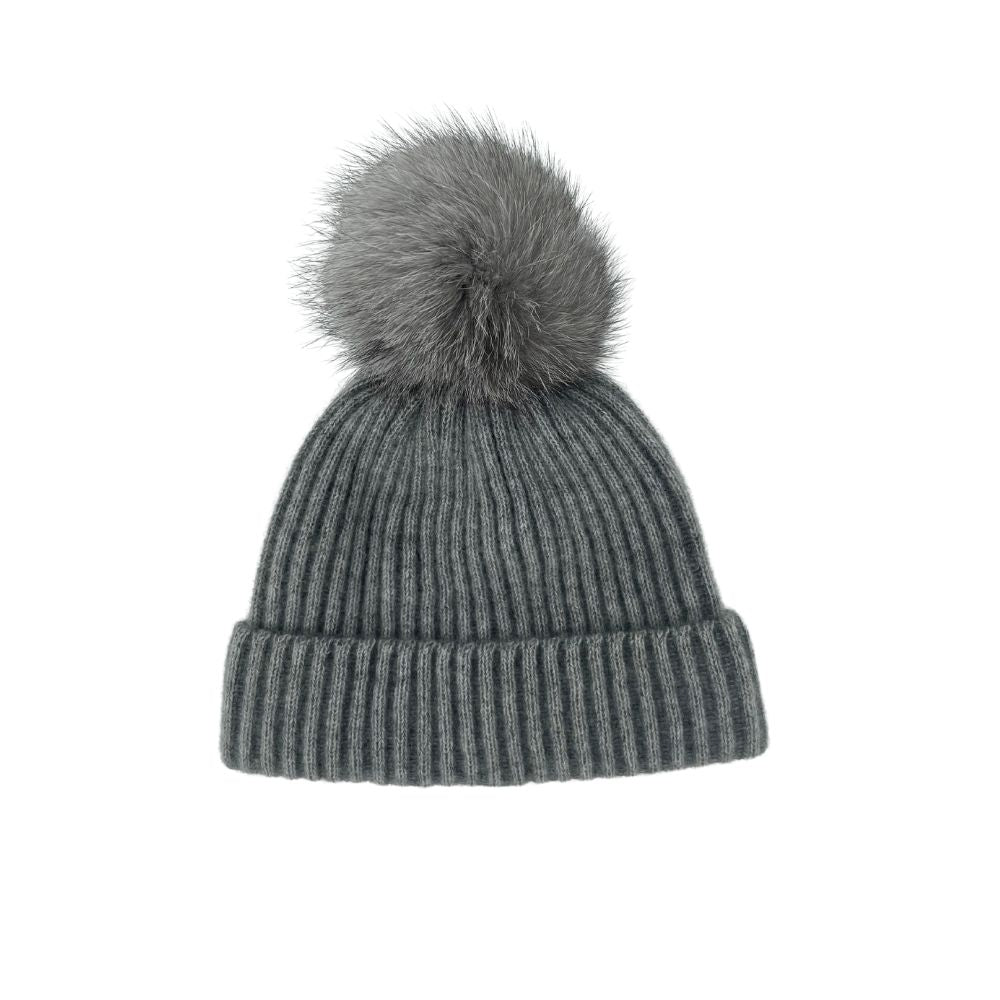 OUR SERVICES
STORAGE | Fur & Leather Cold Storage

For various reasons, most often because of the quality, relatively high price of the product and / or emotional component (special gift, inheritance or the uniqueness of the garment) people decide to preserve and extend the life span of their fur and leather garments.
Home storage, attic, basement or cedar closets are not suitable environment to prevent and protect that garment from drying out, dust, insect damage, theft and other risks. When not professionally stored fur though may not appear to be damaged, the natural oils in the leather may have dried out prematurely aging the garment and leaving it more vulnerable to rips and tears. Discover our fur & leather storage service.
CLEANING | Luxury Outerwear Care

Annual professional cleaning and off-season storage are important and inexpensive ways to ensure and prolong the life of your fur, leather and fur-trimmed garments. Fur coats should be cleaned once a year. They need special treatment and conditioning to keep them soft and supple. Cleaning and glazing is a process that does not shrink, discolor, change the shape of or otherwise damage your fur.
RE-STYLING | The Renew Project

Do you have a leather jacket you don't use? Would you like to give your fur coat a new look? Talk with us, we will help you finding a new style. We will make you fall in love with them again.

The unseen value of any fine fur is the care and service offered by a professional furrier. Your fur deserves attention and common-sense care to assure its wearability for many years to come.

Discover our re-styling service

ABOUT US

Tradition, Commitment, Passion & The Excellence Of Craftsmanship.
These are the values that have guided Yudofsky since 1925.
Yudofsky Fur & Leather is an independent, family owned luxury business and one of the country's finest fur businesses that provides comprehensive fur and leather services in-house. Yudofsky Fur & Leather features Kentucky's largest selection of fine furs, leathers, shearlings, cashmere garments and unique accessories.

©2022 Yudofsky Fur & Leather.

CONTACT INFORMATION

Shelbyville Road Plaza
4600 Shelbyville Road, Suite 147
Louisville, KY 40207
+1 502. 425. 2121


Business Hours:

Tuesday to Saturday: 10 am – 6 pm
Sunday & Monday: Closed


Email: info@yfur.com

Payment methods© 2022,YfurPowered by Shopify
SALE | Fur, Leather , Luxury Outerwear & Accessories

A huge selection of products are available for you, from leather jackets to fur capes and coats, hats, gloves and other leather accessories.